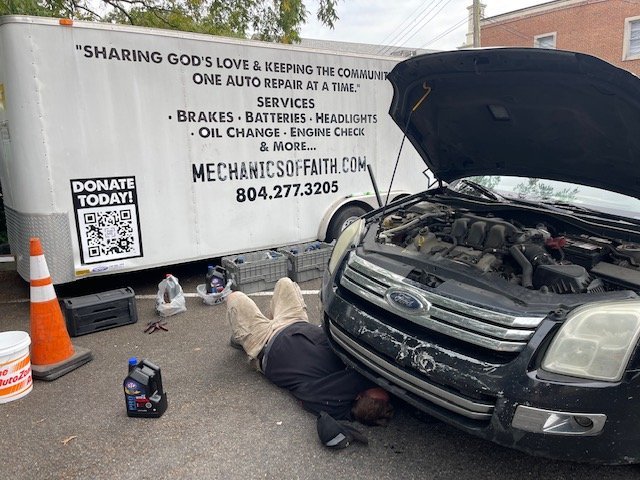 We are truly blessed as a church to support some amazing organizations that God is using to further the Kingdom of Heaven. Check out some of our ministry partners below:
On Site Missions:
Mechanics of Faith is a ministry that believes in keeping families safe by offering automotive repair service to those in need. No one should be left without a vehicle to get them to and from their job, doctors' appointments or other needs because of a costly repair bill.
https://www.mechanicsoffaith.org/
RVA Five Loaves is a ministry that exist to help alleviate hunger in RVA. Every Sunday at 1:30pm they meet at New Life to bag lunches/meals for over 200 people in need. For more information call Reese Bintz at (970) 587-3373 or email Emily McKinley at [email protected]
No Waste Food Pantry is our food pantry at New Life headed up by Donna Irving. We have frozen meats and dry goods that we are able to provide families in need. Please reach out to our church office if you or someone you know is in need of assistance.
Local Mission Organizations We Support:
Eastern Henrico FISH is a local ministry that provides short-term emergency services that require immediate attention. They provide emergency food, financial assistance for bills and expenses, and clothing.
https://www.facebook.com/EasternHenricoFISHInc/
Pregnancy Resource Center of Metro Richmond has served the Richmond community since 1983, helping thousands of women and men in the greater RVA community. It's their goal to provide compassionate care, objective information and practical resources for pregnancy options so that families can make a confident, fully informed decision.
St. Joseph's Villa serves children and families facing homelessness, autism and developmental disabilities, mental illness, special education needs, and other challenges. Their passion is helping them reach their potential and live fuller, more independent lives. Their wraparound approach to education, therapy and care addresses individual needs, and leads those they serve to recognize that they are valued. Vulnerable children and families grow stronger as they gain skills for long-term success and stability. Villa staff brings expertise from many fields to help them thrive in the community.
https://www.neverstopbelieving.org/
Richmond Christian Leadership Initiative equips Christian leaders to weave the gospel into all they do for the good of metro Richmond. One way they do that is through the RCLI Fellowship – an intensive leadership program for emerging Christian leaders. Pastor Lee personally attended this program and it was life changing for him.
International Mission Organizations We Support:
Emmanuel Victorious Ministry in Migori Kenya is a community church that spreads the Gospel of Jesus Christ and provides food, shelter and school for local children. Pastor Elias is the lead pastor.
https://www.facebook.com/profile.php?id=100048406092903
New Life Church in Philippines is a sister church that supports local families and children in the Philippines lead by Pastor Herman Diaz.